Retail Composer: blauwdruk voor succes
Het implementeren van automatiseringsoplossingen in de retail is vakwerk voor mensen met retailkennis. De jarenlange ervaring van Retailstars is terug te vinden in een uniek product: ReComp. Deze Retail Composer is een generiek retail model waarmee de bedrijfsprocessen van een retailorganisatie in kaart worden gebracht. ReComp geeft de retail processen weer van strategisch tot operationeel niveau.
Dynamisch model
ReComp brengt de goederenstromen in kaart van leverancier tot klant met alle bijbehorende processen; assortiment- en prijsbeheer, inkoop, voorraadbeheer, logistiek, winkeloperatie en tevens alle ondersteunende processen als financiën en P&O en wat er verder nodig is voor een gestroomlijnde organisatie waar de tevredenheid van de klant voorop staat. En omdat er maar weinig sectoren zo in beweging zijn als de retail, wordt ReComp voortdurend aangepast aan nieuwe ontwikkelingen en innovaties
Visueel maatwerk
Om het complexe geheel van alle bedrijfsprocessen inzichtelijk te maken worden in ReComp de processen gegroepeerd van strategisch tot operationeel niveau. Daarbinnen worden functionele blokken samengesteld die de basis vormen voor het bepalen van de zogenaamde End-to-End processen. Retailstars gebruikt deze insteek als basis voor al haar implementaties van ICT oplossingen. Het gebruik van ReComp visualiseert zowel voor de klant als voor Retailstars de omvang en complexiteit van de organisatie en de bijbehorende processen. ReComp van Retailstars dient als gereedschap om te bepalen welke software producten waar geïmplementeerd of vervangen dienen te worden, welke koppelingen benodigd zijn, hoe de conversie van oude naar nieuwe applicaties plaatsvindt en of er binnen de organisatie nog procesver-beteringen nodig zijn. Tot slot worden de processen vertaald naar de benodigde functionaliteiten in de onderliggende automatiseringssystemen.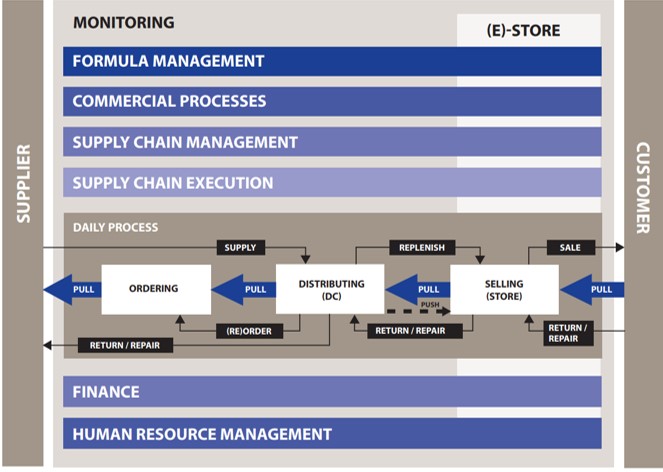 Verbluffende resultaten
Het inzetten van ReComp maakt Retailstars anders. De grondige analyse en het maatwerk retail model dat ReComp oplevert staat garant voor snelle en kwalitatief hoogwaardige implementatie van uw ERP oplossing.